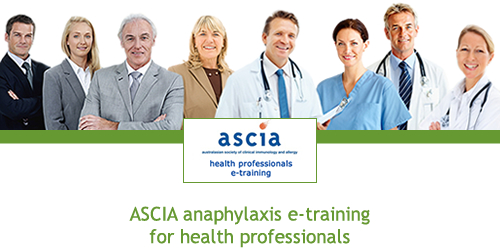 This course has been developed by the Australasian Society of Clinical Immunology and Allergy (ASCIA).

Development of this course has included an extensive review process which involved ASCIA members as well as representatives from other relevant medical organisations throughout Australasia.

Version 3.0 now online - from 30 June 2014
Find out more here...
Accreditation
Approved with ACRRM for 2 Core PDP points.
ASCIA Anaphylaxis Training for Health Professionals
online education programme has been endorsed by
The Royal New Zealand College of General Practitioners (RNZCGP)
and has been approved for 1.5 hours per module CME for
General Practice Educational Programme Stage 2 (GPEP2) and
Maintenance of Professional Standards (MOPS) purposes.
An unrestricted education grant for this project has been provided by

Medical images provided by


Course website produced by


Skip available courses
Available courses
Anaphylaxis e-training for health professionals 2014

Latest version 3.0 - launched 30 June 2014

Anaphylaxis e-training for health professionals

This course has now been updated to AATHP2014 version 3.0